Health Blog: Solutions & Wellness Tips
Physical Therapy Can Improve Outcomes And Reduce Reinjury Risk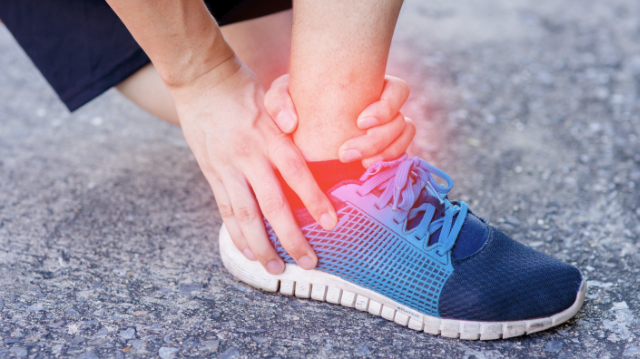 As we mentioned in our first post, ankle sprains are extremely common, especially for athletes. In fact, if you're actively involved in sports, there's a rather strong chance that you will sprain your ankle at some point in your career. Ankle sprains account for up to 45% of all sports injuries, and approximately 25,000 people sprain their ankle every day. The sport you play will also affect your odds, as basketball, football, and soccer all have the highest rates of sprains. This mainly has to do with the movements that are common in each sport, as basketball involves lots of jumping and cutting, which are both largely responsible for ankle sprains.
Ankle sprains involve the ligaments of the ankle joint, which are flexible bands of tissue that connect one bone to another. Ligaments are elastic and can be stretched to a certain length and then return to their original position, but they have a limit. When any of the ankle ligaments are stretched beyond their maximum range of motion, damage will occur, resulting in an ankle sprain. Ankle sprains are generally categorized into the following three groups:


Grade 1 (mild): ligament(s) stretched but there is no tear; symptoms involve mild pain and tenderness, some swelling and stiffness


Grade 2 (moderate): most common type of sprain; ligament(s) partially torn; symptoms include significant swelling and bruising, moderate pain, and trouble walking


Grade 3 (severe): ligament(s) completely torn; symptoms involve severe swelling and pain, especially while walking, instability of joint, extreme loss of motion, possible difficulty bearing weight on foot


Depending on its location in the ankle, a sprain can be further categorized as either lateral, medial, or high. Lateral ankle sprains take place on the outside part of the ankle, which is the most common site for a sprain (about 80% of all sprains). High ankle sprains are less common (up to 15% of sprains) and are often seen in football, downhill skiing, and other field sports, while medial sprains are the least common (about 6%).
Evidence to support the benefits of early physical therapy after an ankle sprain
After experiencing an ankle sprain, it's essential to take some time off and address the immediate symptoms of pain and inflammation with the RICE method (rest, ice, compression, elevation). However, after most symptoms have subsided, patients should begin physical therapy as soon as possible. This approach is recommended because it can help patients recover quicker and avoid future ankle sprains, as well as chronic ankle instability, a condition in which individuals are more prone to continue spraining their ankle.
The benefits of early physical therapy for lateral ankle sprains have been highlighted in a recently published study called a scoping review. For this study, researchers performed a search and identified 37 articles that evaluated the effectiveness of early rehabilitation for lateral ankle sprains. Among the studies included were 5 systematic reviews and 7 randomized controlled trials, both of which are considered high quality types of research.
After reviewing these studies, researchers found that undergoing early dynamic training after a lateral ankle sprain led to a shorter time to return to sports, increased functional performance, and a lower rate of self–reported re–injury. Therefore, athletes and other patients that sprain their ankle should strongly consider seeing a physical therapist as soon as possible to increase their chances of a faster recovery and a lower risk for additional injuries in the future.
In our final post, we'll review another study that shows why seeing a physical therapist is also a smart choice for patients with chronic ankle instability.
January 18, 2022
Back to Health Blog